Patient information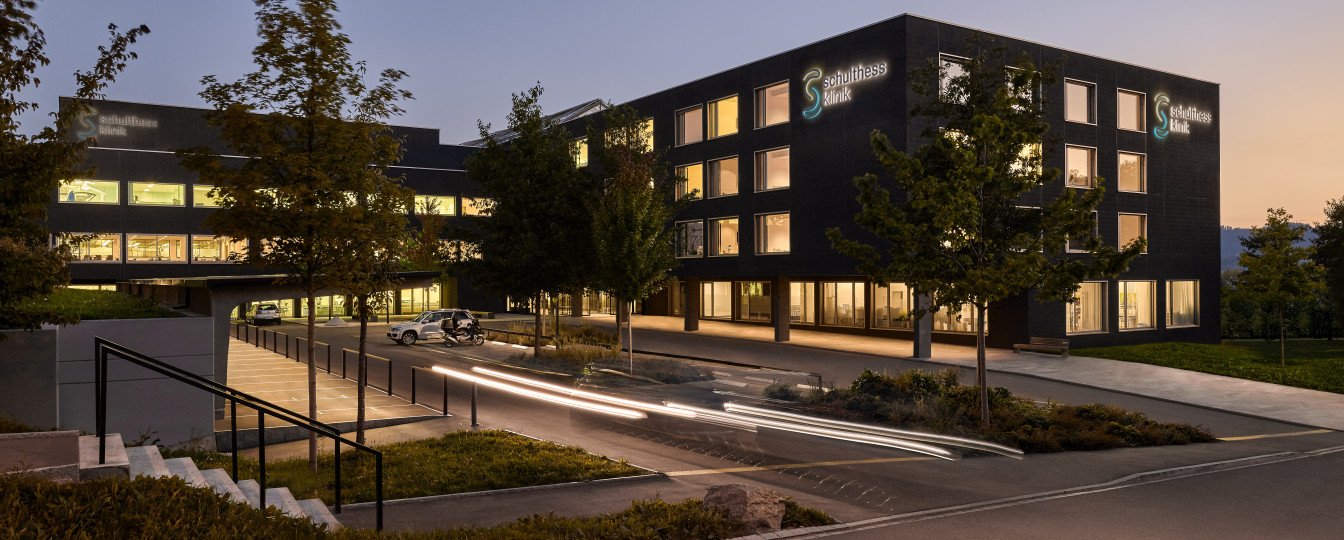 We have compiled the most important information to help you fully prepare for your stay and feel at home with us.
A–C
Admission on the day before your operation
The date and time of your admission are given on your written appointment invitation. On the day of your admission, please report to the main reception on the ground floor. The individual preparations for your operation will then get under way.
Admission on the day of your operation
On the day before your operation, our appointment scheduling department will call you to let you know what time to arrive. If you are undergoing an operation on a Monday, we will notify you the Friday before. You will also be told when you will need to stop eating and drinking (water and tea) on the day of the operation. The day before the operation, you may not eat anything past midnight and may only take medication as per your doctor's orders.
Your admission date and estimated discharge date are given on your written appointment invitation. On the day of your admission, please report to the main reception on the ground floor. The individual preparations for your operation will then get under way.
Please note that the room you are admitted into may not be the same as the one you will be in after your operation.
Alcoholic beverages
Please be aware that alcohol may have an impact on the effectiveness of your medication. Please therefore discuss the consumption of alcoholic beverages with your doctor in advance.
Art at the clinic
In early 2016, the Schulthess Klinik launched an art commission with the aim of building up an innovative collection of art to display at the clinic. The diversity of the different works of art gives the clinic a unique atmosphere and a distinctive character. It can and aims to stimulate discussion and provide pause for thought. Why not take a tour around our clinic and be inspired by the variety of works we have on display?
Bistro/restaurant
The restaurant on the 1st floor will remain closed to patients and external visitors from Monday to Friday until further notice. At weekends, the front part of the restaurant is open to patients and visitors with a Covid certificate.
The bistro on the ground floor is also open to patients and external visitors, but is only accessible to COVID-certified persons.
Opening hours for patients and external visitors with Covid certificate: 
During the week 
Restaurant: closed 
Bistro: 8 am – 6 pm
Weekend 
Restaurant: 10 am – 5 pm 
Bistro: closed
Candles
Burning candles are not permitted in our clinic for fire safety reasons.
Care and treatment
During your stay, you will receive expert care from a team of staff from a variety of fields. We aim to provide holistic care, support and treatment that is oriented towards and tailored to suit your individual needs. We place a high value on friendliness and empathy and are extremely committed to helping you regain your independence as soon as possible. As a teaching hospital, we also attach great importance to the safety of our young doctors in the various medical professions. Specialist nursing staff can be identified by their white clothing, while trainees and assistants wear blue. Whenever possible, we make sure that we can guarantee a high level of continuity in the care provided by the nursing staff during your stay.
Specialist nursing staff working hours:
Early shift: 7.00 am to 4.00 pm
Late shift: 2.00 pm to 11.00 pm
Night shift: 10.15 pm to 7.30 am
Case management
Our case management team will be happy to organise your follow-up care in rehabilitation clinics and spa facilities, as per your doctor's orders. For follow-up care at home, see «Spitex service».
The case management team can also advise you on your rehabilitation options and any transport you may require, if this cannot be provided by your relatives. The clinic will only cover your transport costs if you are being transferred to a rehabilitation clinic or another hospital. Please get in touch with our case management team at any early stage if you need any help with planning.
Case management contact details
T +41 44 385 76 11, from Monday to Friday, 8.00 am to 4.00 pm.
Charging stations for electric vehicles
In order to drive forward e-mobility, we have worked together with Energie 360° to set up two public charging stations for electric vehicles. The green-marked parking spaces are located directly next to the entrance on the right-hand side. To make charging as convenient as possible, the charging stations are operated with the user-friendly charging service from Energie 360°. Find out more: laden.energie360.ch
Checklist
A checklist/packing list of the most important documents and items you will need during your stay at the clinic can be found here.
Clinical specialists
The Schulthess Klinik introduced the clinical specialist role in 2018. In this relatively new role, a specialist originally from the nursing team takes on various medical duties normally carried out by doctors. For patients, they represent a constant point of contact as well as a link between the doctors and nurses. 
Clothing
We recommend that you bring the following items with your for your stay at the clinic:
Pyjamas or nightgown

Comfortable clothing/tracksuit

Underwear/socks

Closed, sturdy shoes with rubber soles (trainers/slippers)

Toiletries (shower gel, shampoo and a hair dryer are provided in private rooms)

Smartphone, tablet or MP3 player (for operations carried out under a local anaesthetic, you can listen to any music of your choice through headphones) 
See also "Checklist".
D–F
Discharge
The date of your discharge will be discussed with you in good time. Plan your discharge time between 9.00 am and 10.00 am. On the day you are discharged (Monday to Friday), please sign out at Patient Administration
(clinic discharge office/ cash desk). On Saturdays and Sundays, you can sign out at our main reception.
Speak to your doctor, the specialist nursing staff and the physiotherapy team to clarify your follow-up treatment, check-ups and specific aspects of your care after you have been discharged. If you like, you also have the option of continuing to receive your outpatient treatment at our clinic after you have been discharged.
Drinks in your room
Tea and mineral water (still or sparkling) are included in your stay. Semi-private patients are welcome to order a range of juices and soft drinks from room service for a charge, while extra drinks are included for privately insured patients. Alcoholic beverages are available for an additional charge (see also "Alcoholic beverages" regarding alcohol consumption).
Emergencies
A doctor is on hand round the clock for emergencies. Please note that in the event of a sudden cardiac arrest, resuscitation measures are always initiated as a matter of principle, unless other arrangements have been previously agreed. If you do not agree with this, please discuss the matter with the doctor responsible for your care.
See also «Living will».
Feedback
We are constantly looking for ways to improve our services and enhance our quality, which is why your feedback on your stay at the Schulthess Klinik is extremely valuable. When you are admitted, you will be given an information card which contains the contact details of our quality management department. We would be grateful for your feedback. If you like, you can also contact us by phone to discuss your concerns with us in person. Of course, our department management team will also be available to talk to at any time during your stay at the clinic if necessary.
Flowers
See «Plants».
Food/menu choice
We believe that it is important to enjoy a fresh and balanced diet full of local ingredients. You can find the current selection of dishes available on our weekly menu. Patients with supplementary insurance also have the option of choosing from the à la carte menu and ordering individual drinks from the drinks menu. À la carte dishes are included for private patients; patients with semi-private insurance will be charged a small premium. Please notify us of any special requests regarding food intolerances and dietary requirements by the day of your admission at the latest; we will let the kitchen team know about any medically prescribed diets. 
We also provide kosher meals; please notify room service before you are admitted to the clinic by calling
T +41 44 385 76 19. Kosher meals can only be provided if ordered in advance.
Meal times
Breakfast: approx. 7.30 am to 8.30 am
Lunch: approx. 11.30 am to 12.30 pm
Dinner: approx. 5.30 pm to 6.30 pm
Foundation/Donations
The Schulthess Klinik was established in 1883 and became a non-profit foundation –
the Wilhelm Schulthess Foundation – in 1935. Since then, it has remained a non-profit organisation. By donating, you are providing support to our aid fund for patients and helping us to drive forward scientific research in orthopaedic medicine in order to continually improve patient care.
For further information, please visit www.schulthess-klinik.ch/en/foundation or send an e-mail to spenden@kws.ch
G–I
Illness prior to admission
If you suddenly experience health problems or suffer from a flu-like infection or a cold shortly before you are due to be admitted, please call the appointment scheduling team on T +41 44 385 75 16 or +41 44 385 75 26 from Monday to Thursday between 8.00 am and 5.00 pm and on Friday between 8.00 am and 4.00 pm. At weekends, please contact the on-duty doctor via the main telephone number of the Schulthess Klinik: T +41 44 385 71 71.
Internet/WiFi
The clinic has a public WiFi connection that is free to use.
Invoicing
If your insurance comes with a guarantee to cover costs, the invoice will be sent directly to your insurance provider for payment, in accordance with your level of cover. This includes medical services and the costs of your stay at the clinic. You can obtain a copy of this for your own files upon request. Self-pay patients will be given a detailed invoice, offsetting the advance payment made.
You will be charged for personal expenses for phone calls, drinks and visitor meals, etc. on the day you are discharged.
J–L
Jewellery
All jewellery must be removed before an operation (e.g. rings, earrings etc.) as it can cause burns.
Laundry service/cleaning 
We are also happy to wash your private laundry. This service is available for a fee for patients with supplementary insurance. Please contact room service.
Leaving your room
If you leave your room, please let the nursing team know where you are going so that we can contact you if you are needed (for visits from the doctor etc.).
Living will
If you have an up-to-date living will, please bring a copy of this with you when you are admitted and hand it over to the staff. Make sure you discuss your will with the doctor who is treating you, too.
M–O
Medical aids
If you use corrective eyewear, dentures, hearing aids or walking aids/walking sticks, please bring these with you to the clinic.
Medical care/doctor's visits
Your surgeon is directly responsible for your care and will make all the necessary arrangements. Your doctor is available at all times if you have any questions and will discuss further treatment with you and the nursing team. The doctors will complete their daily rounds in the morning between 9.00 am and 12.00 pm. We recommend that you note down any questions you have for the doctor prior to the visit.
Medication
If you need to take medication regularly, please bring a sufficient supply with you in its original packaging and hand it over to the specialist nursing staff together with your medication regime. For safety reasons, all medication will be checked and administered by two members of the nursing team at a time throughout your stay.
If you have a vaccination card, allergy card, diabetes book or anticoagulant card, please bring these documents with you.
Newspapers/Magazines
Our patients with supplementary insurance are provided with the "NZZ", "Tages-Anzeiger" or "Blick" every day for free. If possible, we will also be able to arrange for your preferred newspaper to be provided if you order it in advance. Patients with supplementary insurance are given the "SonntagsZeitung" for free on Sundays. We also have a selection of newspapers and magazines at our kiosk in the bistro.
Opening hours
All entrances to the Schulthess Klinik are open between 6.30 am and 9.00 pm. If you go out in the evening, please make sure you return to the clinic before 9.00 pm.
P–R
Parking
Due to the limited number of parking spaces available, we recommend that you use public transport: tram no. 11 or Forchbahn S 18 to the Balgrist stop.
Alternatively, you can take our shuttle service from Zurich Stadelhofen station (in front of the station building). This is free for patients and visitors (see "Taxis and clinic shuttle"). However, if you do come by car, you can park it in the multi-storey car park for a fee. Disabled parking spaces are available both directly in front of the clinic and in the multi-storey car park. Please note that our car park has a maximum height limit of 2 m.
Pastoral care
Catholic and Reformist pastoral staff are regularly present in our clinic to support you. Together with you, they will find ways and solutions to resolve your personal problems or simply listen to you attentively. These conversations can often throw up new perspectives. If you like, you can also be guided through various religious rites. If you would like to receive pastoral support, please contact the specialist nursing team.
Phone
You are allowed to use your mobile phone at the Schulthess Klinik. A landline is also available. Calls within Switzerland are free and you will not be charged for your private calls. You will be charged for calls abroad at the current rates. The specialist nursing staff or room service will be happy to provide you with a list of the current foreign tariffs on request.
Physiotherapy
Our physiotherapy department is divided into specialist groups for the hips and knees, shoulders and elbows, the spinal column and sports physiotherapy. This specialisation allows us to offer you an individual physiotherapy programme that achieves the desired goals effectively and efficiently. Even after your stay, you can benefit from our comprehensive support.
Piercings
All piercings (including earrings) must be removed before an operation as they can cause burns.
Plants
Potted plants, hydroponics and floral arrangements (e.g. with moss) can carry germs and are therefore not allowed in the clinic. Cut flowers on the other hand are permitted and make for an inviting atmosphere in your hospital room. Our room service team can look after your flowers if needed.
Please note that flowers are not permitted in Intermediate Care (IMC, post-operative recovery room).
Post
If you would like to send letters, you can hand them in to the main reception for posting. You can also purchase stamps there. We will bring incoming post to your room for you.
Preventing falls
The risk of suffering a fall is therefore greater than in your normal surroundings at home. The most important rules in brief:
Wear suitable shoes for walking (slip-resistant soles – heel grips – proper shoe size). If you are interested in our "safety socks", please ask our specialist nursing team.
Never get up after taking strong painkillers, sleeping pills or sedatives without our support.
Never get up for the first time after an operation on your own.
Use the patient call button so we can help you.
If you are unsteady on your feet, only leave your bed if accompanied.
You have a height-adjustable bed. Lower it completely before getting into bed.
Switch on a light at night if you are getting out of bed.
Always wear your visual aids when walking.
Use the handrail in the bath, in the corridor and in the stairwells.
Questions and information
We make every effort to ensure that your stay is as pleasant as possible. However, if something does not live up to your expectations, please contact the person in charge of your ward.
Quiet room
On the first basement floor next to the auditorium there is a quiet room. It invites patients, relatives and staff to take a moment to pause and breathe. There is also a book where you can write down your thoughts and prayers.
Radio and television
Free radios and televisions are available in all rooms.
Help us to help other patients by supporting our research. You can make a personal contribution to medical progress by agreeing to the use of your health data for research purposes. You may also be asked to participate in one of our studies. Your data is safe with us.
Rooming-in/Accompanying person
Rooming-in allows relatives to stay overnight with their spouses/life partners or children. Rooming-in is charged on the basis of the number of nights spent at the clinic – either with or without food.
Are you interested in rooming-in? If so, please notify your doctor's secretary as soon as possible so that we can explain the options.
Room service
Our room service team looks after all of the non-treatment aspects of your stay, such as serving meals. Private and semi-private patients also enjoy top-class all-round services. The room service team is available during the day from 7.00 am to 7.00 pm to cater to all of your culinary requirements. They can also organise visitor meals, deliver your preferred daily newspaper and look after your flowers.
S–U
Smoking
The health of our patients and staff is important to us. This is why the Schulthess Klinik is a non-smoking zone. The smoking ban also applies to the entrance areas of the clinic. For patients who are mobile enough to leave their rooms, there is a smoking room on the third floor.
Spitex service
Our specialist nursing staff will be happy to organise Spitex services for follow-up care in your home.
Sustainability
Schulthess Klinik has long been committed to working in the most resource- and climate-friendly way possible. Big and small sustainability projects are continuously being implemented under the slogan "Schulthess Klinik goes green" – for example, Schulthess Klinik gets 100% of its electricity from ewz-Naturstrom, produced from Swiss hydropower with the "naturemade star" quality label. 
We use as many local products as possible in our kitchen and, for environmental reasons, we provide only vegetarian dishes on "Meat-free Thursday". We avoid wasting food through various measures and we donate items that are no longer needed to charitable organisations when possible. What's more, we have numerous other projects that we are continuously implementing in the interest of sustainability.
Taxis and clinic shuttle 
If you are visiting us or returning home, you can use the shuttle bus between Stadelhofen station (in front of the station building) and the Schulthess Klinik (see "Parking").
The shuttle service runs every 40 minutes between 7.40 am and 4.38 pm from Monday to Friday. The service is free for Schulthess Klinik patients. The timetable on the last page of the brochure "Information for patients" is your ticket. For your consultation appointment, you will receive your ticket from the secretary's office. If you have lost your ticket, please report to the main reception.
We are also happy to order you a taxi. Please contact the main reception if you would like us to do this.
TV
Free radios and televisions are available in all rooms.
V–Z
Valuables
As a general rule, please do not bring any valuables with you for your stay at the clinic. However, if you do have cash or valuable belongings with you, you can store them in the lockable cabinet compartment or – in semi-private and private rooms – in the safe (numerical code).
Do not leave any valuable belongings or cash lying around in your room or on your nightstand. The clinic rejects any responsibility or liability for lost valuables. Please note that our property insurance only covers break-in and robbery, not theft. In the event of theft, the injured party's theft insurance comes into effect.
Visiting times
Visitors and accompanying persons (aged 16 and above) require a valid COVID certificate (with a form of personal identification) or proof of a negative test result (rapid antigen test, max. 48 hours old or PCR test, max. 72 hours old) to enter the clinic.
Our visiting hours are as follows:
Monday to Friday: 10 a.m. to 9 p.m., Saturday, Sunday and public holidays: 2 p.m. to 6 p.m.
No more than one visitor per patient is permitted in multi-bed rooms and no more than two visitors per patient in single rooms. The duration of the visits must be limited to a maximum of one hour.
Unfortunately, visitors to Intermediate Care (IMC) and the Outpatient Treatment Centre (BZ) are not permitted.
Please observe the applicable behavioural guidelines during your visit (keep your distance, wash your hands thoroughly, do not shake hands). In addition, the Cantonal Department of Health requires masks to be worn throughout the entire hospital premises. You will receive a mask when you are admitted to hospital.
Visitors and meals for patients with supplementary insurance
Eating in the restaurant
We are normally happy to welcome you and your visitors to our restaurant. However, the restaurant is currently closed to patients and external visitors from Monday to Friday until further notice. At weekends, the front part of the restaurant is open to patients and visitors with a Covid certificate.
Eating in your room
For semi-private patients – for an additional charge, we would also be delighted to serve your visitors' meals in your room. Private patients also have the option to invite one guest per day for either lunch or dinner free of charge. In both cases, you can order a set menu or from the à la carte menu for your visitor with room service (order lunch by 10.00 am and dinner by 4.00 pm).
Gourmet menu
If you are staying for more than five days, we offer a gourmet menu to patients with supplementary
insurance and their guests. The meals will be served to you in your room and you can arrange the time with room service. Let yourself be pampered by our kitchen staff.
Visitors and overnight stays
For private patients – if visitors want to stay with you overnight, please notify your doctor's secretary as soon as possible. You will then be informed of the available options and conditions.
WiFi
See "Internet/WiFi".