Visitor information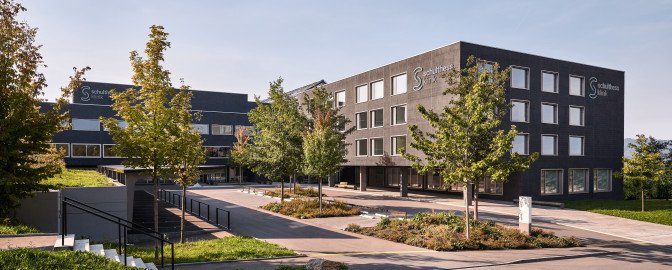 Art at the clinic
In early 2016, the Schulthess Klinik launched an art commission with the aim of building up an innovative collection of art to display at the clinic. The diversity of the different works of art gives the clinic a unique atmosphere and a distinctive character. It can and aims to stimulate discussion and provide pause for thought. Why not take a tour around our clinic and be inspired by the variety of works we have on display?
Visitors and meals for patients with supplementary insurance
Eating in the restaurant
The restaurant on the first floor is open for patients and visitors.
Opening hours
Monday to Friday 07.00 am to 6.00 pm
Saturday, Sunday and holidays 10.00 am to 5.00 pm
Eating in your room
For semi-private patients – for an additional charge, we would also be delighted to serve your visitors' meals in your room. Private patients also have the option to invite one guest per day for either lunch or dinner free of charge. In both cases, you can order a set menu or from the à la carte menu for your visitor with room service (order lunch by 10.00 am and dinner by 4.00 pm).
Bistro/restaurant
The restaurant on the first floor and the bistro on the ground floor are open to patients and visitors.
Opening times:  
During the week
Restaurant: 7 a.m. – 6 p.m.
Bistro: 8 a.m. – 6 p.m.

Weekend
Restaurant: 10 a.m. – 5 p.m.
Bistro: closed
Candles
Burning candles are not permitted in our clinic for fire safety reasons.
Charging stations for electric vehicles
In order to drive forward e-mobility, we have worked together with Energie 360° to set up two public charging stations for electric vehicles. The green-marked parking spaces are located directly next to the entrance on the right-hand side. To make charging as convenient as possible, the charging stations are operated with the user-friendly charging service from Energie 360°. Find out more: laden.energie360.ch
Flowers
Our members of staff can look after your flowers, if needed. Cut flowers make for an inviting atmosphere in your hospital room – potted plants, on the other hand, can carry germs and are therefore not allowed in the clinic. Please note that flowers are not permitted in Intermediate Care (IMC; post-operative recovery room).
Parking
Due to the limited number of parking spaces available, we recommend that you use public transport: tram no. 11 or Forchbahn S 18 to Balgrist stop.
Alternatively, you can take our shuttle service from Zurich Stadelhofen station (in front of the station building). This is free for patients and visitors. The shuttle service runs every 40 minutes between 7.40 am and 4.38 pm from Monday to Friday. The service is free for Schulthess Klinik patients. However, if you do come by car, you can park it in the multi-storey car park for a fee. Please note that our car park has a maximum height limit of 2 m.
Construction site: The new children's hospital in Zurich Lengg is set to be completed by autumn 2024. Access to the clinic and the underground car park is possible at all times.
Smoking
The health of our patients and staff is important to us. That is why the Schulthess Klinik is a non-smoking zone. The smoking ban also applies to the entrance areas of the clinic. For patients who are mobile enough to leave their rooms, there is a smoking room on the third floor.
Visiting times
Our visiting hours are as follows:
Patients with general insurance cover:
Between 2.00 pm and 9.00 pm every day
Semi-private patients:
Between 10.00 am and 9.00 pm every day
Private patients:
Any time without restrictions
No more than one visitor per patient is permitted in multi-bed rooms and no more than two visitors per patient in single rooms. The duration of the visits must be limited to a maximum of one hour.
Unfortunately, visitors to Intermediate Care (IMC) and the Outpatient Treatment Centre (BZ) are not permitted.
Please observe the applicable behavioural guidelines during your visit (keep your distance, wash your hands thoroughly, do not shake hands). In addition, the Cantonal Department of Health requires masks to be worn throughout the entire hospital premises. You will receive a mask when you are admitted to hospital.