Clinical movement analysis
With the objective of improving treatment outcomes and patient satisfaction, the clinical movement analysis group conducts studies on the entire body and/or individual implants. These studies entail investigating the movements and active forces in persons with various orthopaedic pathologies, such as joint replacement, injuries or musculoskeletal restrictions.
Links between different parameters
Clinical movement analysis helps us to understand the link between patient characteristics (e.g. age, sex, weight, patient-specific patterns of movement, surgical indication), the treatment option selected (e.g. implant type, surgical technique, rehabilitation programme) and the surgical result (gains in mobility and quality of movement). This analysis helps surgeons to make decisions regarding the optimum treatment for individual patients.
State-of-the-art technology
In order to carry out movement analyses, our Human Performance Lab is outfitted with a three-dimensional (3D) movement analysis system equipped with 13 cameras, four force plates embedded in the floor, a large foot pressure measurement plate and a wireless 16-channel electromyography (EMG) system.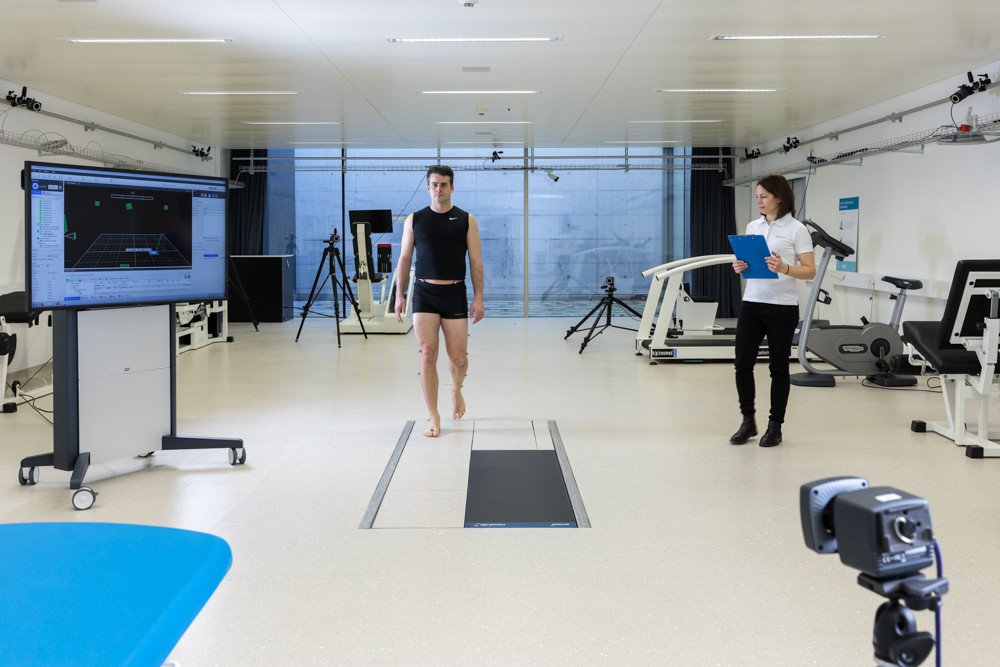 In collaboration with the Institute for Biomechanics at ETH Zurich, we also operate a mobile fluoroscope at ETH Zurich. This instrument visualises the movements of a joint implant during various physical activities and is used to assess the functionality of individual joints – particularly following a joint replacement. The research focuses on how implant designs and operation techniques affect movements as well as the resulting implant loads.
Large-scale studies
In addition to small individual studies, specific patient groups are examined in large-scale studies in the Human Performance Lab. The aim of these prognostic studies is to determine the functional capability of patients during various everyday activities. These studies make it possible to identify certain patient characteristics that are associated with undesirable or desirable treatment outcomes.
This process is intended to help surgeons select the optimum treatment and gauge expected treatment outcomes so that they can inform patients of these and thereby increase patient satisfaction.
Another study conducted in collaboration with the Institute for Biomechanics at ETH Zurich examines the impact of different prosthetic knee designs when patients swing a golf club. To do this, reflective skin markers, ground reaction forces, video fluoroscopy and subsequent load modelling are used.
Schulthess Klinik
Schulthess Klinik
Lengghalde 2
8008 Zürich
Switzerland
Teaching, Research and Development