Schulthess Klinik's 140th anniversary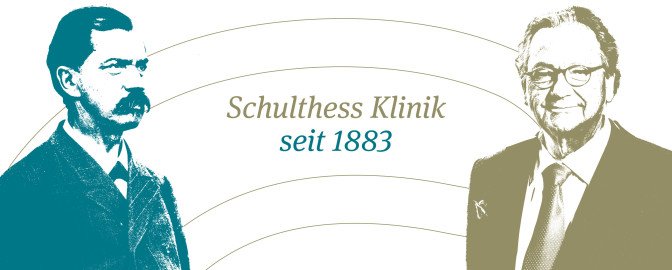 Exactly 140 years ago, a young doctor called Dr. Wilhelm Schulthess opened the Orthopedic Institute on Löwenstrasse in Zurich, laying the foundations for what would become Schulthess Klinik. Wilhelm Schulthess was known for his empathy and fascinated by the area he specialized in – orthopedics. He was responsible for a number of medical innovations and he is still seen as a pioneer to this day. Employees at Schulthess Klinik carry on the legacy of Wilhelm Schulthess, following in the founder's footsteps by staying true to his concept of "healing, researching, helping" in the work they do every day.
A lot has changed since the Orthopedic Institute (which became Schulthess Klinik) opened its doors over a century ago. Wilhelm Schulthess penned his handbook of orthopedic surgery all on his own in what is now Schulthess Klinik's Research Department, which publishes countless publications every month and is known far and wide for its outcomes research. Schulthess Klinik has been moving forward from the very beginning and it shows no sign of stopping now. Franz von Meyenburg, President of the Board of Trustees, shares some thoughts in the video above.
Wilhelm Schulthess was ahead of his time when it came to medical equipment too and he was responsible for some key inventions of the 19th and 20th centuries. His work included measuring instruments for diagnosing orthopedic disorders and early machine-based treatment methods.
For example, he designed the scoliometer, which made it possible to measure trunk asymmetry in scoliosis. He was at the peak of his scientific career in and around 1908, when he was one of the busiest and best-known doctors in the whole of Switzerland. He made a name for himself around the world with his research into scoliosis in particular.
Dr. Norbert Gschwend paved the way for the modern clinic
The Schulthess Klinik was managed by the daughter of Wilhelm Schulthess and her husband for a while before Dr. Norbert Gschwend took over in the early 1960s. Norbert Gschwend was responsible for the values, scientific work and reputation of the clinic as it is to this day.
His work to meticulously document all prostheses implanted back in the 1970s is at the heart of the current outcomes research. Norbert Gschwend was the author of over 400 publications about orthopedics and the co-author of another 100.
Our video about the Wilhelm Schulthess Foundation will take you on a journey through time and introduce you to the clinic. It has always been special and it always will be.
Interested in finding out more about the foundation and the clinic?