Consultant
Dr. med. Zina-Mary Manjaly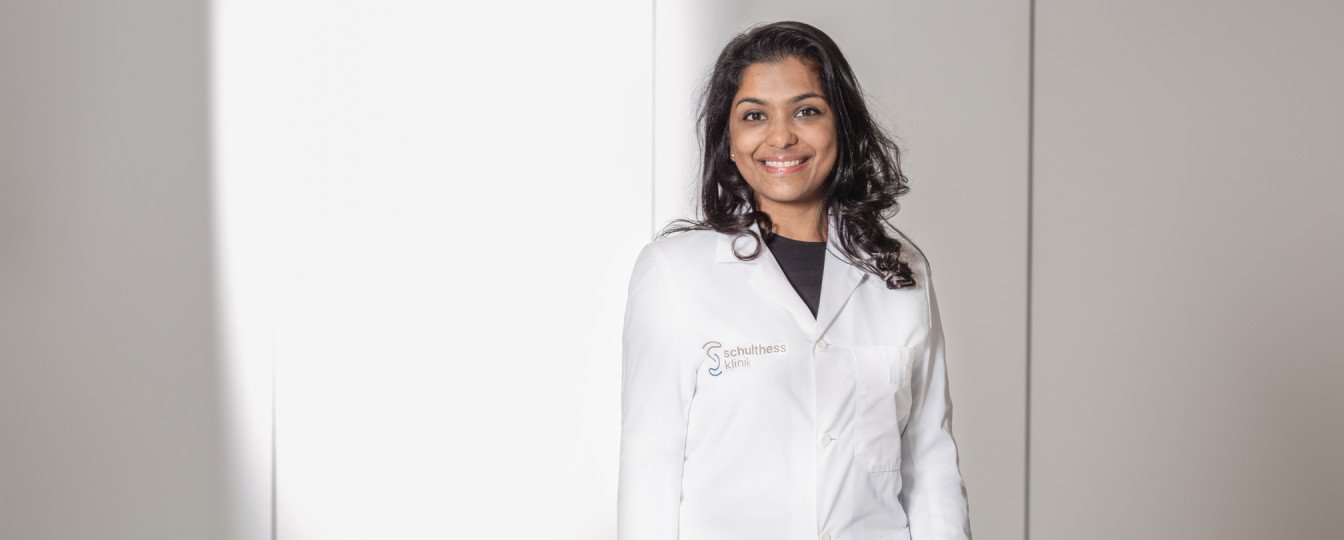 Dr Manjaly is a neurology specialist who completed her clinical training in England and Switzerland. She is a clinical scientist at ETH Zurich, specialising in fatigue, multiple sclerosis and brain imaging techniques (neuroimaging). Building on her Master's degree in Mindfulness-Based Cognitive Therapy (MBCT) from the University of Oxford, she is also investigating the role of cognitive factors in neurological symptoms and therapeutic efficacy.
Specialty
Fatigue
Multiple sclerosis
Mindfulness-Based Cognitive Therapy (MBCT)
Certificates of proficiency
Electroneuromyography (ENMG)
Electroencephalography (EEG)
Curriculum
since 2018
Special consultation for Fatigue at Schulthess Klinik
2014–2015
Clinic for Neurology, Universitätsspital Zürich
2013–2014
Clinic for Psychiatry, Universitätsspital Zürich
2012–2013
Clinic for Internal Medicine, Universitätsspital Zürich
2007–2012
Clinic for Neurology, Universitätsspital Zürich
2006–2007
Maidstone Hospital (Teaching hospital of the King's College London), Internal Medicine, Emergency Medicine, Psychiatry
Education and training
2018
Master of Studies (MSt), University of Oxford
2013
Specialist in Neurology FMH
2007
Dr. med., University of Aachen (summa cum laude)
2006
State Examination, Heinrich-Heine-Universität Düsseldorf
Scientific activities
Teaching
2018 Lecture "Mindfulness-Based Cognitive Therapy", Association for Further Education in Psychiatry and Psychotherapy (WBV) for prospective specialists in psychiatry
since 2017 Lecture "Cerebellum", Bachelor Human Medicine ETH Zurich
since 2017 Neurological examination course, Bachelor of Human Medicine ETH Zurich
Scientific focus
Fatigue

Multiple Sklerosis

Brain imaging (neuroimaging), especially functional MRI

Mindfulness-Based Cognitive Therapy (MBCT)
Partnerships
ETH Zurich

Universitätsspital Zürich

University College London
Expert activities
NeuroImage Clinical

Swiss Multiple Sclerosis Society
Memberships
Swiss Society of Clinical Neurophysiology SGKN
Neurological Society of the Canton of Zurich ZNG
Awards and honours
2008 Friedrich-Wilhelm prize (promotion award RWTH Aachen)
2007 Borchers badge (RWTH Aachen)
2006 Günther-Leibfried prize (Research centre Jülich)
2005 International NRW Undergraduate Science Award (Ministry of Science NRW)
Grants and stipends
2004–2006 Scholar of the German National Academic Foundation
2003 Travel Award from Allianz Insurance for a stay abroad at Oxford University
2003 Study delegate of the Helmholtz Association at the Nobel Laureate Meeting, Lindau
1997 Honour Roll Award (Board of Education, Toronto, Kanada)
Publications
Articles in international journals with review system
Manjaly ZM, Harrison NA, Critchley H, Do CT, Stefanics G, Wenderoth N, Lutterotti A, Müller A, Stephan KE (2019) Pathophysiological and Cognitive Mechanisms of Fatigue in Multiple Sclerosis. Journal of Neurology, Neurosurgery, and Psychiatry, in press. doi:10.1136/jnnp-2018-32005
Frässle S, Lomakina E, Kasper L, Manjaly ZM, Leff A, Pruessmann KP, Buhmann JM, Stephan KE (2018) A generative model of whole-brain effective connectivity. Neuroimage 179: 505-529
Kasper L, Bollmann S, Diaconescu AO, Hutton C, Heinzle J, Iglesias S, Hauser TU, Sebold M, Manjaly ZM, Pruessmann KP, Stephan KE (2017) The PhysIO Toolbox for Modeling Physiological Noise in fMRI Data. Journal of Neuroscience Methods 276: 56-72
Stephan KE, Manjaly ZM, Mathys CD, Weber LA, Paliwal S, Gard T, Tittgemeyer M, Fleming SM, Haker H, Seth AK, Petzschner FH (2016) Allostatic Self-efficacy: A Metacognitive Theory of Dyshomeostasis-Induced Fatigue and Depression. Frontiers Human Neuroscience 10: 550.
Manjaly ZM, Luft AL, Sarikaya H (2011) An unusual cause of pseudo-median nerve palsy. Case Reports in Neurological Medicine Article ID 474271. doi:10.1155/2011/474271
Manjaly ZM, Bruning N, Neufang S, Stephan KE, Brieber S, Marshall JC, Konrad K, Kamp-Becker I, Remschmidt H, Herpertz-Dahlmann B, Fink GR (2007) Neurophysiological correlates of relatively enhanced local visual search in autistic adolescents. NeuroImage 35: 283-291.
Manjaly ZM, Marshall JC, Stephan KE, Gurd JM, Zilles K, Fink GR (2005) Context-dependent interaction of the left posterior inferior frontal gyrus in a local visual search task unrelated to language. Cognitive Neuropsychology 22: 292-305.
Manjaly ZM, Marshall JC, Stephan KE, Gurd JM, Zilles K, Fink GR (2003) In search of the hidden: an fMRI study with implications for the study of patients with autism and with acquired brain injury. NeuroImage 19: 674-683.
Invited articles (without review)
Manjaly ZM (2018) Fatigue bei rheumatoider Arthritis. SPV/ASP – info 150: 5-14
Manjaly ZM (2018) Diagnostik und Therapie der Fatigue bei Multipler Sklerose. Schweizer Zeitschrift für Neurologie und Psychiatrie 3: 28-30
Book chapters
Fink GR, Manjaly ZM, Stephan KE, Gurd JM, Zilles K, Amunts K, Marshall JC (2006) A role for Broca's area beyond language processing: evidence from neuropsychology and fMRI. In: Broca's Region (ed. Grodzinsky Y, Amunts K), pp. 254-270. Oxford: Oxford University Press.