Head of Spine Surgery, Orthopaedics and Neurosurgery
PD Dr. med. François Porchet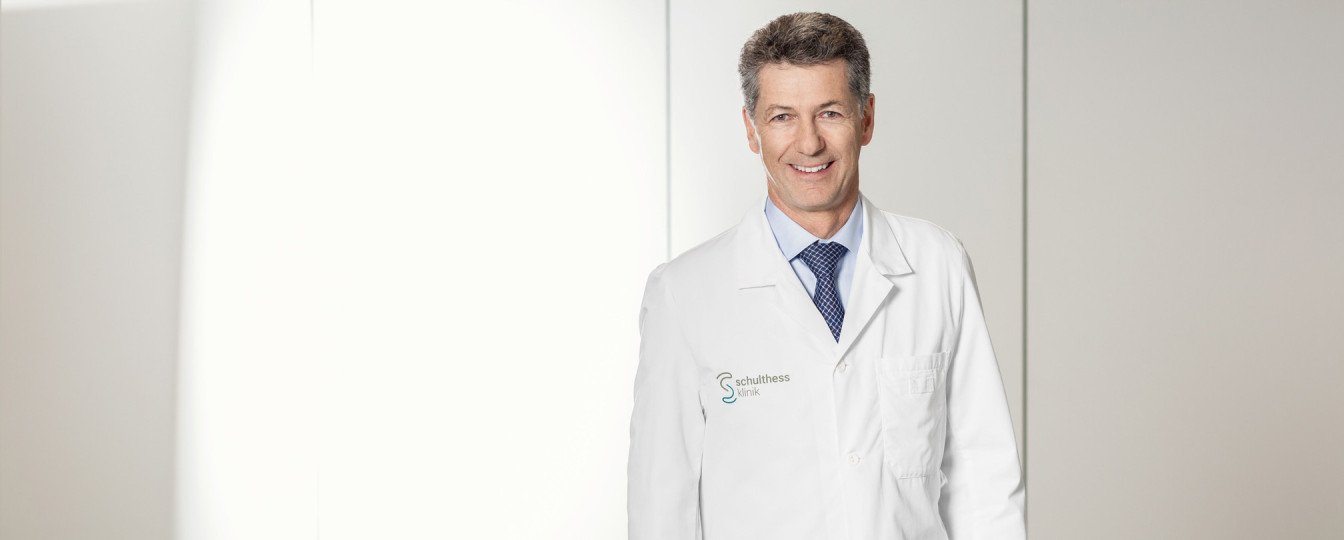 Specialty
Lumbar disc herniation / disc hernia lumbar spine
Cervical disc herniation / disc hernia cervical spine
Narrowed lumbar nerve channel / spinal canal (stenosis)
Cervical narrowed spinal canal (stenosis)
Instability of the spinal column / arthrosis
Vertebral fracture in osteoporosis
Spinal cord tumor / cysts / tumors of the spinal cord sheaths
Curvature of the spinal column (scoliosis)
Languages
German
French
English
Italian
Contact
Spine Surgery, Orthopaedics and Neurosurgery
Curriculum
since 2002
Head of Spine Surgery, Orthopaedics and Neurosurgery, Schulthess Klinik
2000
Médecin adjoint Neurochirurgie, Universitätsklinik Lausanne CHUV
1993–1999
Senior Consultant Neurosurgery, Universitätsklinik Lausanne CHUV
(Prof. N. de Tribolet)
10/1992–09/1993
Resident Neurology, Universitätsklinik Lausanne CHUV
10/1992–09/1992
Consultant Neurosurgery, Universitätsklinik Lausanne CHUV
10/1989–09/1990
Resident Neurosurgery, Universitätsklinik Lausanne CHUV
08/1988–08/1989
Resident Orthopaedics, Universitätsklinik Balgrist
Activity at the Paraplegic Centre Balgrist
08/1986–07/1988
Resident Neurosurgery, Kantonsspital Aarau
1986
Resident General Surgery, Kantonsspital Chur
Education and training
2001
Habilitation as private lecturer for neurosurgery, University of Lausanne
2000
Maître d'Enseignement et de Recherche, MER Faculté de Médecine Lausanne
1996
Spine Fellow, Barrow Neurological Institut, Phoenix, Arizona, USA
(Prof. Volker K.H. Sonntag)
1993
Spezialarzt FMH für Neurochirurgie
1987
Doctor of Medicine, University of Basel
1985
Swiss Federal Medical Diploma, Medical Faculty Basel
Scientific activities
Principal Investigator
Lumbar Stenosis Outcome Study LSOS
Swiss Multicenter Outcome Study,
Conjoint with: Universitätsspital  Zürich; Horton Zentrum Zürich; Universitätsspital Balgrist
2015–2020
Appropriateness of Surgery for Lumbar Degenerative Spondylolisthesis (LDS)
Conjoint with: Departement of Social- and Preventive Medecin, University Lausanne
2013–2019
Scientific focus
Spinal Surgery: Outcome Studies
Appropriateness Criteria in Spinal Surgery
Cervical disc prostheses
Spinal surgery of intradural tumors
Scientific Reviewer
European Spine Journal
Medical Consultant
Medacta Swiss und Medtronic International
Scientific Editorial Board
Neurospine Swiss
Teaching
ETH student course
Formerly student courses University of Lausanne Neurosurgery
Former student courses University of Zurich Neurosurgery
Teaching: SYNS (Swiss young neurosurgeons)
Memberships
Swiss Society of Neurosurgery SGNCH
Swiss Society of Spinal Surgery SGS (Founding member and former president)
EUROSPINE, the Spine Society of Europe
World Federation of Neurological Surgeon WFNS (Spine Committee Member)
Association of Senior Hospital Physicians of Switzerland VLSS
Medical Association of the Canton of Zurich AGZ
Societé vaudoise de médecine SVM
Publications
2018
Held U, Burgstaller JM, Wertli MM, Pichierri G, Winklhofer S, Brunner F, Porchet F, Farshad M and Steurer J. Prognostic function to estimate the probability of meaningful clinical improvement after surgery - Results of a prospective multicenter observational cohort study on patients with lumbar spinal stenosis. PLoS One, 2018. 13(11):e0207126.
Ulrich NH, Gravestock I, Held U, Schawkat K, Pichierri G, Wertli MM, Winklhofer S, Farshad M, Porchet F, Steurer J and Burgstaller JM. Does Preoperative Degenerative Spondylolisthesis Influence Outcome in Degenerative Lumbar Spinal Stenosis? Three-Year Results of a Swiss Prospective Multicenter Cohort Study. World Neurosurg, 2018. 114:e1275-e1283.
Fekete TF, Loibl M, Jeszenszky D, Haschtmann D, Banczerowski P, Kleinstück FS, Becker HJ, Porchet F, and Mannion AF. How does patient-rated outcome change over time following the surgical treatment of degenerative disorders of the thoracolumbar spine? Eur Spine J, 2018. 27(3):700-708.
Sutter, M., Eggspuehler, A., Jeszenszky, D., Kleinstück, F., Fekete, T. F., Haschtmann, D., Porchet, F., Dvorak, J. The impact and value of uni- and multimodal intraoperative neurophysiological monitoring (IONM) on neurological complications during spine surgery: a prospective study of 2728 patients. Eur Spine J, 2018.