News
Dr. med. univ. Hannes Manner, new Head of Paediatric Orthopaedics
Dr. med. univ. Hannes Manner will be promoted to Head of Paediatric Orthopaedics as of 1 July 2022. Dr. med. Rafael Velasco will continue to support the clinic as a senior consultant.
On 18 May, our Board of Trustees unanimously elected Dr. med. univ. Hannes Manner as the new Head of Paediatric Orthopaedics with effect from 1 July 2022.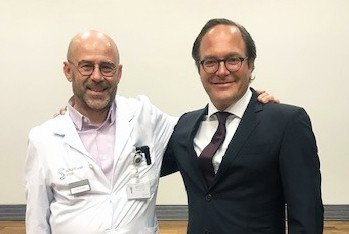 As Senior Consultant , Hannes Manner has been making an outstanding contribution to paediatric orthopaedics at the Schulthess Klinik since 2006. He has been Co-Head of the department since 2020. In recent years, he has increasingly taken on organisational tasks in paediatric orthopaedics. He is also a member of the surgery management committee and is responsible for sub-assistants. His promotion is a logical step in recognising his outstanding professional and personal skills.
We are delighted to have found a competent successor to Rafael Velasco in Hannes Manner. We would like to congratulate him sincerely on his new position and wish him plenty of success and enjoyment in this role.
We would like to express our heartfelt thanks to Rafael Velasco for his tireless work in paediatric orthopaedics, where he has been instrumental in building up an outstanding reputation. Fortunately, he will continue to support the Schulthess Klinik as a senior consultant.