Teaching, Research and Development
Annual Report 2022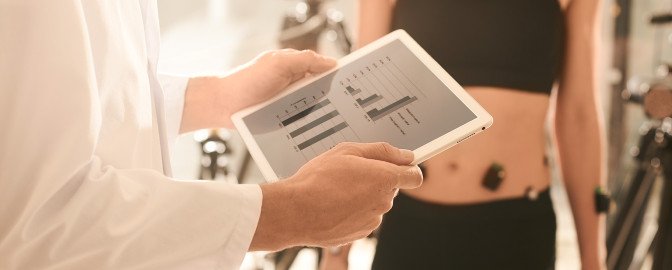 original papers in peer-reviewed journals
peer-reviewed congress abstracts
selected lectures and training courses
With its scientific work, the Teaching, Research and Development department continuously contributes to the improvement of patient treatments. The standardised collection of data, gathered over many years, ensures continuous quality control, while also serving as the basis on which we can continuously develop in a scientifically sound way. The research teams are in close contact with doctors working in clinical practice, which allows for a mutual transfer of knowledge. An important foundation for this research work is our patients, who have been more than willing to fill out our questionnaires for decades now, providing us with excellent data for our studies. We are enormously grateful to them!
Research to continuously improve treatments
Our founder, Wilhelm Schulthess, was committed to the continuous development of orthopaedics. Prof. Norbert Gschwend, former clinic director, then laid the foundation of our outcome research in the 1970s with the clinic's internal documentation centre for hip and knee prostheses. In the years that followed, our research became more and more professional and systematised. For example, we have conducted over 230,000 systematic patient surveys since 2004, the results of which have been incorporated into the ongoing studies. These studies allow us to draw important conclusions for the future, always with the aim of continuously improving patient care.
Our research work is financed by the Wilhelm Schulthess Foundation research fund. The donations are channelled into various groundbreaking research projects.
Scientific output
We also share our knowledge with physicians and colleagues in Switzerland and abroad through publications and our teaching activities. In the past year, our researchers and doctors have again worked together closely to produce numerous high-level scientific papers.
| | |
| --- | --- |
| 77 original papers in peer-reviewed journals | 113 peer-reviewed congress abstracts |
| 36 reviews and other articles | 207 selected lectures and training courses |
| 6 book contributions | 8 dissertations and theses |
| 15 others |   |
During 2022, we completed 21 research projects with one or more publications, with another 154 projects ongoing at the end of the year.
List of publications for 2022
Scientific awards in 2022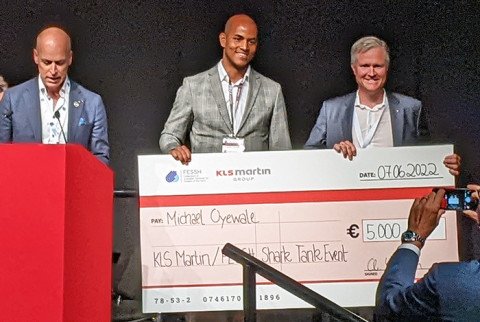 Research prize at the IFSSH, IFSHT & FESSH Combined Congress for hand surgery for Michael Oyewale
At the IFSSH, IFSHT & FESSH Combined Congress for hand surgery in London, our colleague Michael Oyewale won a prize for his innovative idea of developing an app for patients. The purpose of the app is to enable patients to see exactly where they are in the healing process after their surgery and what the future course of their treatment is likely to look like.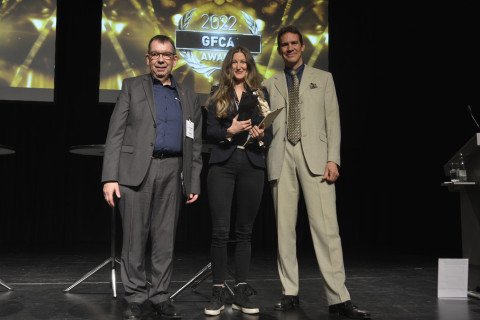 Greatest Future Clinical Application Award for Nora Huber
Our junior doctor in hand surgery, Nora Huber, received the Greatest Future Clinical Application Award at the Annual Congress of the Swiss Society for Hand Surgery for her lecture "Thumb carpometacarpal implant arthroplasty: The fast track back to work".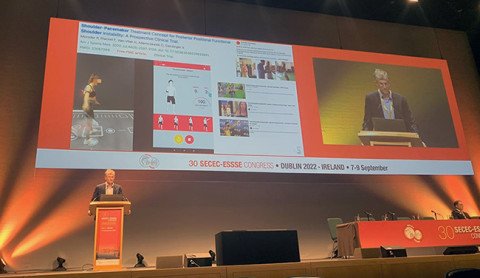 Several prizes for the multicentre study on a new form of therapy for posterior shoulder instability
In a multi-centre study, Prof. Dr. med. univ. Philipp Moroder, Prof. Dr. med. Markus Scheibel and Prof. Dr. Laurent Audigé, DVM PhD, dedicated themselves to posterior shoulder instability. In this study, they were able to show that a new form of treatment, based on motion-activated electrical stimulation and developed by Prof. Moroder, leads to significantly better results than conventional treatment. The study was awarded the Best Paper Prize at the Congress of the European Society for Surgery of the Shoulder and the Elbow (SECEC/ESSSE) in Dublin and also at the Congress of the German, Austrian and Swiss Shoulder and Elbow Society (DVSE) e.V. in Munich. At the Congress of the Society for Arthroscopy and Joint Surgery (AGA) in Vienna, she also received the Alwin Jäger Award 2022.
Jochen Löhr Prize for research work in shoulder surgery
The 28th Annual Congress of the German, Austrian and Swiss Shoulder and Elbow Society (DVSE) e.V. took place in Munich from 20 to 22 July 2022. The working group with Philipp Vetter, Dr. med. univ. Frederik Bellmann, Larissa Eckl, Prof. Dr. Laurent Audigé and Prof. Dr. med. Markus Scheibel was awarded the Jochen Löhr Prize for their clinical work on "The 'Circle' method – the new gold standard in the assessment of acromioclavicular joint dislocations?".
Presentation of two spine studies at two major international congresses in the "Best of" presentations category
The Spine Research Group was invited to present two of its studies at two major international congresses in the "Best of" presentations category: Eurospine in Milan and ISSLS (International Society for the Study of the Lumbar Spine) in Boston. The first study used X-ray images to investigate the effect on spinal mobility of degenerative changes in the lumbar spine in a group of more than 600 patients. The second study presented a novel machine learning-based tool that can analyse the quality and size of muscles adjacent to the lumbar spine on an MRI.
News from the Lower Extremities Research Department
Collaboration with ETH Lausanne on noises in the knee
Our collaboration with the Sensemodi lab at ETH Lausanne is gaining momentum. For example, we have received a joint InnoSuisse grant to further investigate acoustic emissions from the knee as a biomarker for early knee osteoarthritis (OA). In this project, up to 120 patients will be monitored with an InModi device (for sound emissions and movement) and with gold-standard clinical methods (MRI/X-ray). We will assess the condition of their knees at annual intervals. The aim is to find out whether noises in the knee indicate early osteoarthritis.
Supervision of Master's students
Supporting the next generation of doctors and scientists is close to our hearts. This is why we supported such talent in 2022 in the form of cooperations. Two Master's students from ETH Zurich have successfully completed their Master's thesis with us in collaboration with Prof. Stephen Ferguson in the field of knee prosthetics. A medical student at the University of Zurich dedicated his Master's thesis to a topic relating to growth guidance, under the supervision of Dr. phil. Vincent Stadelmann and Prof. Dr. med. Hannes Rüdiger.
News from the Research Department Shoulder and Elbow Surgery and Hand Surgery
Collaboration with the Erasmus Medical Center in Rotterdam
We picked up the pace in our collaboration with the Erasmus Medical Center in Rotterdam (Netherlands). Our colleague Michael Oyewale is working on a doctorate which involves introducing a system in our clinic to support doctors in informing and treating their patients. In addition, patients will receive feedback on how they are healing after surgery compared to other patients. A similar system is already in use in Rotterdam and our Dutch colleagues are supporting us with their experience of the tool.
Nationwide study on rotator cuff ruptures
For this Swiss study on the arthroscopic treatment of rotator cuff tears, 89% of 973 patients were examined 12 months after surgery. By the end of 2023, patients will also have provided feedback on their subjective perception of the results and satisfaction two years after surgery via an online questionnaire. This study, led by Prof. Dr. Laurent Audigé together with the University of Basel, involves 18 clinics in Switzerland and one in Germany. The project is supported by the Swiss National Science Foundation (SNSF), Swiss Orthopaedics and SUVA. The initial results will be published from 2023.
Continuing education in motion
Our colleagues are constantly developing. Once again this year, the team successfully completed various projects (CAS, Bachelor's and Master's theses) on issues that are a part of our daily routine in the clinic. Congratulations to everyone involved!
Our colleague Miriam Marks is also passing on her knowledge and has been lecturing on the subject of clinical research to the medical students at ETH Zurich since this spring semester. This is one way in which we can pass on our experience in the scientific field directly to the doctors of tomorrow, in addition to supervising them as they complete research internships at our clinic.
Collaboration with Rheumatology
Last year, we started a scientific collaboration with our Rheumatology and Rehabilitation department. In cooperation with Dr. med. Stefan Diermayr and our former junior doctor Dr. med. Franziska Graf, we started a study on ultrasound-guided shoulder lavage. Franziska Graf is also writing her dissertation at the University Hospital Basel under the supervision of our research group leader Prof. Dr. Laurent Audigé. We also conducted a study on biceps tenodesis supported by Dr. med. Marco Etter and Dr. med. Florian Freislederer.
News from the research group of the Spine Department
Change of staff in the Spine Research Group
At the beginning of the year, Dr. phil. Anne F. Mannion relinquished her long-standing leadership of the Spine Research Group. She worked for Schulthess Klinik for a total of 21 years and was instrumental in developing our research activities. Her valuable work has produced outstanding results, which have been recognised with numerous awards as well as national and international research grants. She will continue to support the Spine Research Group in an advisory capacity.
Her successor, Dr. biol. hum. Fabio Galbusera, a biomedical engineer with expertise in spine biomechanics, radiological image analysis and machine learning, joined the Spine Research Group as a research associate in January 2022 and will take over as its leader in January 2023.
Doctor visiting from Japan thanks to AO Spine
Thanks to funding from AO Spine, a spine surgeon from Japan, Dr. Hiroyuki Nakarai, had the opportunity to spend three months at Schulthess Klinik to conduct research and participate in clinical activities. AO Spine is an international spinal medicine society that supports knowledge transfer, research and education. Dr. Nakarai collaborated on a study to develop software for the automatic analysis of X-ray images of the cervical spine.
Expansion of the spine registry for conservative treatments
Schulthess Klinik has been routinely documenting all operations in the international spine registry Spine Tango since 2004. The "Spine Tango Conservative" registry, which was started in 2021 and records non-surgical treatments, was further developed and expanded last year with the addition of our specialised physiotherapy. We presented the project under the title "The Ying and Yang of Spine Care Documentation – The revised Spine Tango Conservative registry as a complement to Spine Tango Surgery" at the EuroSpine Congress in Milan in a lecture.
News from the Human Performance Lab (HPL)
Innovation funding for home-based physiotherapy with artificial intelligence (AI)
Together with the company Akina, our HPL team has received a grant from Innosuisse, the Swiss Innovation Agency. The funded project focuses on software for home-based physiotherapy using artificial intelligence (AI) developed by Akina. The software is now being tested and further developed with various patients as part of an innovation project.
Spine and shoulder projects
For various projects, we leaned more heavily on our cooperation with the Spine and Shoulder research groups. Together with Dr. med. Tamas Fekete, the HPL team wants to find out how best to objectively measure foot drop. To this end, we are comparing different measurement systems in a pilot study. In another project, we are analysing various attributes of the spine (including orientation, shape, movement) in static and dynamic positions and activities in patients with deformities before and after surgery.
In a validation study conducted together with Prof. Dr. med. univ. Philipp Moroder and Prof. Dr. med. Markus Scheibel from Shoulder and Elbow Surgery, the HPL team is researching a clinical method of evaluating the activation of a muscle that is important for external shoulder rotation. Future projects on shoulder motion analysis are planned.
Collaboration for ETH funding programme
A joint study by our Neurology department and ETH Zurich on the subject of back pain was included in the ETH funding programme. This has enabled us to expand our cross-departmental cooperation.
Sharing knowledge
Together with the ETH group led by Prof. Dr. Stephen Ferguson, the HPL team organised a workshop on the biomechanics of the spine. The workshop was attended by young researchers from the NuSpine consortium and their own students. Through lectures and practical exercises, participants learned how to measure body movement with an optoelectronic motion analysis system and to estimate the corresponding spinal loads with modelling software by AnyBody Technology, a leading provider of musculoskeletal modelling and simulation software.
Also with Prof. Dr. Stephen Ferguson as well as Dr. med. Inès Kramers, the HPL team conducted another training course for the Swiss Society for Physical Medicine and Rehabilitation (SGPMR) on the topic of biomechanics and gait analysis.
Knowledge gained through our research
Below are some of the highlights from the numerous publications of our research which yielded treatment-relevant findings:
Flexible flatfoot is very common in young children. Most of them develop normal feet over time, or the condition remains asymptomatic. However, a small proportion of children with flat feet also suffer from short Achilles tendons. This is a very specific group of patients that we believe has a poor prognosis if left untreated. We analysed the effect of Achilles tendon lengthening in children under 5 years of age suffering from severe flexible flatfoot with Achilles tendon shortening. Surgery for flat feet in young children should be considered carefully. However, our study shows that Achilles tendon lengthening is a viable option for this very specific patient group. This finding is important for the paediatric community as no comparable data is currently available.
Blümel S, Stephan A, Stadelmann VA, Manner HM, Velasco R. Percutaneous minimal invasive Achilles tendon lengthening improves clinical and radiographic outcomes in severe flexible flatfeet with shortened triceps sureae complex in early childhood: A retrospective study. Foot Ankle Surg, 2022. (Epub ahead of print). https://doi.org/10.1016/j.fas.2022.12.009
In a total hip replacement, where the entire hip joint is replaced with a prosthesis, the hip joint capsule can be completely removed or restored. Both methods are recognised and there is no consensus yet on which is the best option. Some previous studies suggest that retention of the capsule yields better results. In a research paper, we compared two groups of patients, all of whom were operated on by Prof. Dr. med. Leunig using a direct anterior approach; in the first group the capsule was removed, in the second it was retained. There was no difference in revision rates between the two groups and no clinically significant differences. This showed that both methods are successful.
Stadelmann, VA, Rüdiger H A, Nauer S, Leunig M. Impact of capsular preservation on patient-reported outcomes and complication rates in total hip arthroplasty using the direct anterior approach. Bone Joint J. 104-B (7): 826-832, 2022. https://doi.org/10.1302/0301-620X.104B7.BJJ-2021-1765.R1
The cost explosion in the health system is forcing us to pay attention not only to the effectiveness of treatment, but also to its cost-effectiveness. In a study of 151 patients with thumb saddle joint arthritis, we were able to show that resection arthroplasty surgery on this joint has a very good cost-benefit ratio and is therefore effective and economical.
Grobet C, Audigé L, Eichler K, Meier F, Marks M, Herren DB. Cost-Utility Analysis of Thumb Carpometacarpal Resection Arthroplasty: A Health Economic Study Using Real-World Data. J Hand Surg Am, 47(5): 445-453, 2022. https://doi.org/10.1016/j.jhsa.2022.01.013
Operating too early does not bring the desired success. In patients with osteoarthritis of the medial phalangeal joint, we were able to determine threshold values to aid surgeons in deciding for or against surgery. We showed that only patients with moderate and severe pain achieved relevant pain relief through surgery with an artificial joint. Therefore, it can make sense to wait to perform the operation in cases involving minor pain.
Marks M, Oyewale M, Neumeister S, Schindele S, Herren DB. Preoperative Thresholds of Pain and Function to Achieve a Minimal Important Change and Patient Acceptable Symptom State After Proximal Interphalangeal Joint Arthroplasty. J Hand Surg Am, 2022 (Epub ahead of print). https://doi.org/10.1016/j.jhsa.2022.07.019
Shoulder arthroplasty design is constantly evolving in order to achieve better outcomes for patients. In patients with a shoulder muscle defect, an inverse prosthesis is often used, which can be implanted in various configurations. Using data from our local shoulder prosthesis registry, we compared the surgical results of similar patients who received either an inverse prosthesis with the classic design or in a more specialised configuration. The analysis showed that the more specialised configuration results in better preservation of external rotation of the shoulder joint, which is a movement that is important for day-to-day activities. This also reduces the risk of damage to the scapula, which has been observed in cases where the classic design is used and can lead to the implant coming loose.
Freislederer F, Toft F, Audigé L, Marzel A, Endell D, Scheibel M. Lateralized vs classic Grammont style reverse shoulder arthroplasty for cuff deficiency Hamada stage 1-3 – Does the design make a difference? Journal of Shoulder and Elbow Surgery. 31(2): 341-351, 2022. https://doi.org/10.1016/j.jse.2021.07.022
We have reached an international consensus on the minimum monitoring parameters in the treatment of humeral head fractures. This project concludes a series of surveys of international panels of shoulder experts with the aim of developing standardised tools for the systematic documentation of adverse events and radiological monitoring of various shoulder pathologies. We use these tools as part of our local shoulder registries to improve the quality of the documentation and assessment of our treatment outcomes.
Lambert S, Brorson S, Joeris A, Durchholz H, Moro F, Audigé L. International consensus for a core radiological monitoring protocol of proximal humerus fractures. Injury. 53(10): 3326-3331, 2022. https://doi.org/10.1016/j.injury.2022.07.026
A study in collaboration with ETH Zurich and the European Spine Study Group (ESSG) investigated how the shape and alignment of the spine and its pathological deviations influence the mechanical loads in the spine itself. These loads are important because we know that excessive mechanical loads, which can occur after surgery to correct spinal deformities in adults, are associated with a higher risk of complications and revisions.
Ignasiak D, Behm P, Mannion AF, Galbusera F, Kleinstück F, Fekete TF, Haschtmann D, Jeszenszky D, Zimmermann L, Richner-Wunderlin S, Vila-Casademunt A, Pellisé F, Obeid I, Pizones J, Sánchez Pérez-Grueso FJ, Karaman MI, Alanay A, Yilgor Ç, Ferguson SJ, Loibl M; ESSG European Spine Study Group. Association between sagittal alignment and loads at the adjacent segment in the fused spine: a combined clinical and musculoskeletal modeling study of 205 patients with adult spinal deformity. Eur Spine J. 2022 (Epub ahead of print). https://doi.org/10.1007/s00586-022-07477-4
With the help of artificial intelligence (AI), the Spine Research Group has developed a tool to predict the outcome of operations to treat degenerative diseases of the lumbar spine. The free online prognostic tool, which is intended to aid decision-making and discussion of patient expectations after clinical validation, is based on models.
Müller D, Haschtmann D, Fekete TF, Kleinstück F, Reitmeir R, Loibl M, O'Riordan D, Porchet F, Jeszenszky D, Mannion AF. Development of a machine-learning based model for predicting multidimensional outcome after surgery for degenerative disorders of the spine. Eur Spine J. 31(8): 2125-2136, 2022. https://doi.org/10.1007/s00586-022-07306-8
A common complication following anterior cruciate ligament reconstruction is weakness of the thigh muscle on the operative side. This could be prevented in some cases by home-based therapy (electrical stimulation) of the non-operative side. This is achieved due to a neural phenomenon called the cross-education or cross-transfer effect.
Wellauer V, Item JF, Bizzini M, Maffiuletti NA. Home-based nonoperative-side quadriceps neuromuscular electrical stimulation prevents muscle weakness following anterior cruciate ligament reconstruction. J Clin Med. 11(2): 466, 2022. https://doi.org/10.3390/jcm11020466
In a follow-up study, we were able to show that hip impingement patients were able to maintain the reduction in hip pain and the improvement in hip function after 12 weeks of active exercise therapy (without subsequent hip surgery) over 5 years.
Monn S, Maffiuletti NA, Bizzini M, Sutter R, Naal FD, Leunig M, Casartelli NC. Mid-term outcomes of exercise therapy for the non-surgical management of femoroacetabular impingement syndrome: are short-term effects persisting? Phys Ther Sport. 55:168-75, 2022. https://doi.org/10.1016/j.ptsp.2022.04.007