Consultant
Dr. med. univ. Matthias Erschbamer, PhD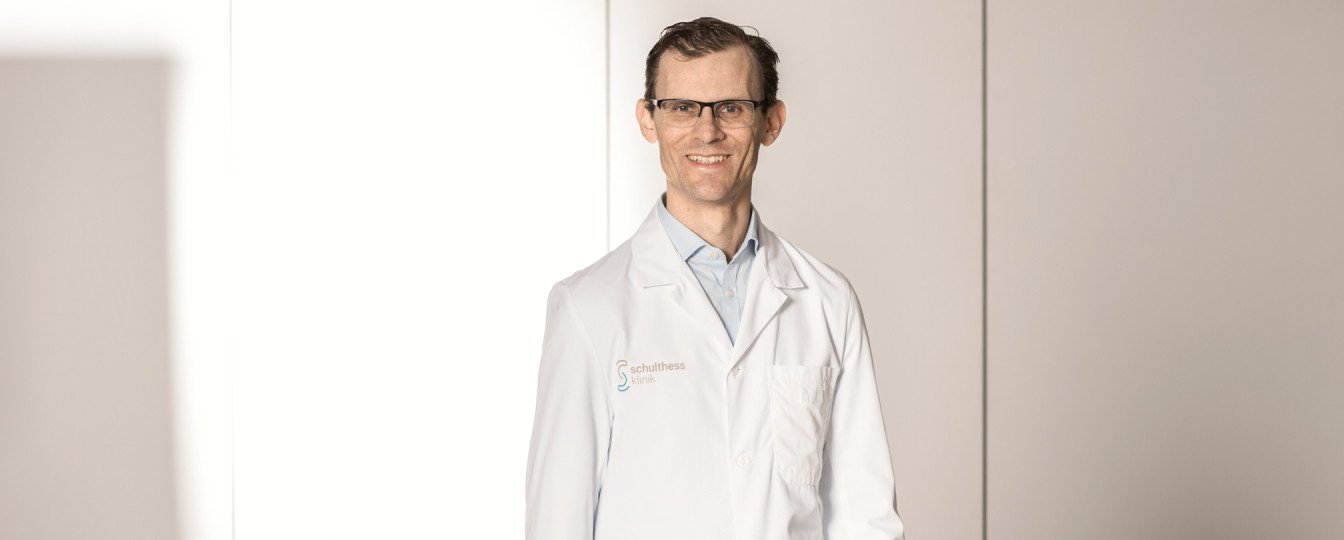 Specialty
Orthopaedic surgery of the knee joint and sports traumatology
Focal points: Prosthetics of the knee joint (primary and revisions)
Arthroscopic and joint-preserving knee surgery
Sports traumatology knee and traumatology of the lower extremity
Languages
German
Italian
English
Swedish
Medical specialisation
Orthopaedic Surgery and Traumatology of the Musculoskeletal System
Curriculum
since 10/2017
Consultant Knee Surgery, Schulthess Klinik
2014–2017
Consultant Orthopaedics and Traumatology, Kantonsspital St. Gallen
(Prof. B. Jost)
2013
Resident Paediatric Orthopaedics, Ostschweizer Kinderspital
(Dr. H. Klima)
2011–2012
Resident Orthopaedics and Traumatology, Kantonsspital St. Gallen
(Prof. B. Jost)
2009–2011
Resident Orthopaedics, Uniklinik Balgrist Zürich
(Prof. Ch. Gerber)
2007–2008
Resident Surgery St. Claraspital Basel
(Prof. von Flue)
Education and training
2014
Specialist in Orthopaedic Surgery and Traumatology of the Musculoskeletal System FMH
2004–2007
Doctorate (PhD) in neuroscience at the Karolinska Institute, Stockholm: "Experimantal Treatment and Repair Strategies in Spinal Cord Injury"
1998–2004
Study of Medicine, Vienna
Memberships
Swiss Medical Association FMH
Swiss Association of Residents and Consultants VSAO
Publications
Behrend H, Lengnick H, Zdravkovic V, Ladurner A, Rudin D, Erschbamer M, Joerger M, Kuster M. Vitamin C demand is increased after total knee arthroplasty: a double-blind placebo-controlled-randomized study. Knee Surg Sports Traumatol Arthrosc. 2018 Jun 28. doi: 10.1007/s00167-018-5030-3. [Epub ahead of print]
Wanivenhaus F, Fust J, Erschbamer M, Schirm A. Clinical and Radiologic Outcomes of Metatarsophalangeal Hemiarthroplasty: A Review of 12 Consecutive Cases. Orthopedics. 2018 Jan 1;41(1):e64-e69. doi: 10.3928/01477447-20171114-03. Epub 2017 Nov 21.
Erschbamer M, Gerhard P, Klima H, Ellenrieder B, Zdenek-Lehnen K, Giesinger K. Distal tibial derotational osteotomy with external fixation to treat torsional deformities: a review of 71 cases. J Pediatr Orthop B. 2017 Mar;26(2):179-183. doi: 10.1097/BPB.0000000000000308.
Erschbamer M, Zdravkovic V, Erhardt J, Öhlschlegel C, Grob K. Osteolytic changes around biodegradable cement restrictors in hip surgery. Acta Orthop. 2016 Jun;87(3):239-44. doi: 10.3109/17453674.2016.1152853. Epub 2016 Feb 24.
Giesinger K, Hamilton DF, Erschbamer M, Jost B, Giesinger JM. Black medicine: an observational study of doctors' coffee purchasing patterns at work. BMJ. 2015 Dec 16;351:h6446. doi: 10.1136/bmj.h6446.
Erschbamer M, Den Hollander J, Sauter D, Erhardt J, Hechelhammer L, Külling F. Endovascular embolisation is a successful and safe treatment for post-operative arterial complications after total hip arthroplasty and revision surgery. Int Orthop. 2016 Aug;40(8):1577-1582. doi: 10.1007/s00264-015-3058-2. Epub 2015 Nov 28.
Spross C, Ebneter L, Benninger E, Erschbamer M, Erhardt J, Jost B. Short- or long-stem prosthesis for intramedullary bypass of proximal humeral fractures with severe metaphyseal bone loss: evaluation of primary stability in a biomechanical model. J Shoulder Elbow Surg. 2013 Dec;22(12):1682-8. doi: 10.1016/j.jse.2013.02.012. Epub 2013 Apr 22.
Jentzsch T, Erschbamer M, Seeli F, Fuchs B. Extensor function after medial gastrocnemius flap reconstruction of the proximal tibia. Clin Orthop Relat Res. 2013 Jul;471(7):2333-9. doi: 10.1007/s11999-013-2851-8. Epub 2013 Feb 20.
Modaressi K, Erschbamer M, Exner GU. Dysplasia of the hip in adolescent patients successfully treated for developmental dysplasia of the hip. J Child Orthop. 2011 Aug;5(4):261-6. doi: 10.1007/s11832-011-0356-0. Epub 2011 Jul 2.
Wieser K, Erschbamer M, Neuhofer S, Ek ET, Gerber C, Meyer DC. Controlled laboratory testing of arthroscopic shaver systems: do blades, contact pressure, and speed influence their performance? Arthroscopy. 2012 Oct;28(10):1497-503. doi: 10.1016/j.arthro.2012.03.006. Epub 2012 Jun 9.
Hahn F, Erschbamer M, Allenspach P, Rufibach K, Schweizer A. Physiological bone responses in the fingers after more than 10 years of high-level sport climbing: analysis of cortical parameters. Wilderness Environ Med. 2012 Mar;23(1):31-6. doi: 10.1016/j.wem.2011.12.006.
Erschbamer M, Bode B, Buck FM, Fuchs B. A rare periosteal diaphyseal lesion of the ulna. Open Orthop J. 2012;6:8-10. doi: 10.2174/1874325001206010008. Epub 2012 Feb 10.
Spross C, Platz A, Erschbamer M, Lattmann T, Dietrich M. Surgical treatment of Neer Group VI proximal humeral fractures: retrospective comparison of PHILOS® and hemiarthroplasty. Clin Orthop Relat Res. 2012 Jul;470(7):2035-42. doi: 10.1007/s11999-011-2207-1. Epub 2011 Dec 13.
Espinosa N, Seybold JD, Jankauskas L, Erschbamer M. Alcohol sclerosing therapy is not an effective treatment for interdigital neuroma. Foot Ankle Int. 2011 Jun;32(6):576-80. doi: 10.3113/FAI.2011.0576.
Erschbamer M, Oberg J, Westman E, Sitnikov R, Olson L, Spenger C. 1H-MRS in spinal cord injury: acute and chronic metabolite alterations in rat brain and lumbar spinal cord. Eur J Neurosci. 2011 Feb;33(4):678-88. doi: 10.1111/j.1460-9568.2010.07562.x. Epub 2011 Jan 20.
Erschbamer M, Pernold K, Olson L. Inhibiting epidermal growth factor receptor improves structural, locomotor, sensory, and bladder recovery from experimental spinal cord injury. J Neurosci. 2007 Jun 13;27(24):6428-35.
Erschbamer M, Pham TM, Zwart MC, Baumans V, Olson L. Neither environmental enrichment nor voluntary wheel running enhances recovery from incomplete spinal cord injury in rats. Exp Neurol. 2006 Sep;201(1):154-64. Epub 2006 Jun 8.
Erschbamer M, Hofstetter CP, Olson L. RhoA, RhoB, RhoC, Rac1, Cdc42, and Tc10 mRNA levels in spinal cord, sensory ganglia, and corticospinal tract neurons and long-lasting specific changes following spinal cord injury. J Comp Neurol. 2005 Apr 4;484(2):224-33.