Consulting Physician
Dr. med. Stefan Diermayr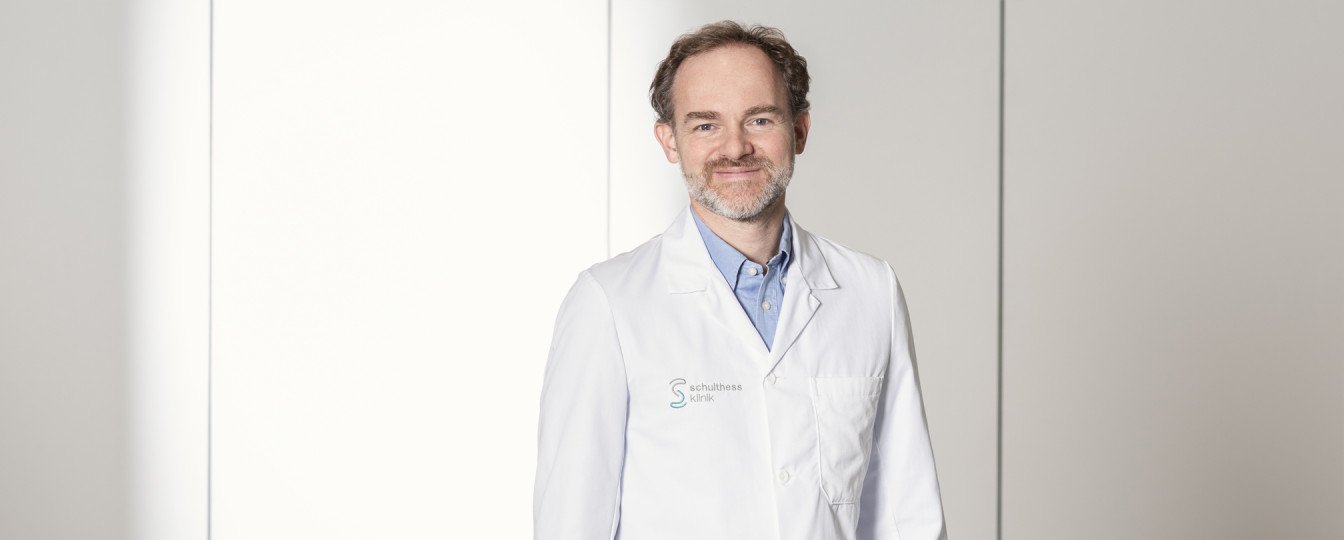 Specialty
Musculoskeletal Ultrasound
Therapeutic infiltrations of joints and spine under ultrasound
Contact
Rheumatology and Rehabilitation
Certificates of proficiency
Sonography of the musculoskeletal system SGUM (Tutor)
Interventional pain therapy SSIPM
Curriculum
After completing his medical studies at the University of Vienna in 2002, he trained as a medical specialist in Switzerland. Most of his training as an internist took place at the University of Basel, where he worked full-time for 2 years in basic haematological research.
In 2010 specialization in rheumatology at the University of Zurich and subsequently at the Schulthess Klinik Zurich with additional qualifications in sonography of the musculoskeletal system, interventional pain therapy and manual medicine.
Since 2013 free-lance rheumatologist in a rheumatological group practice. Since 2012 in the ultrasound consultation at the Schulthess Klinik.
since 2014
Rheumatism centre Winterthur (60%) (Dres. P. Bodmer, F. Colla, C. Pfeiffer)
2013–2014
Rheumatology Practice in Wädenswil, Zurich (Dr. A. Wüest)
2012–2013
Rheumatology, Schulthess Klinik (Dr. I. Kramers)
2010–2011
Rheumatology, Universitätsklinik Zürich (Prof. B. Michel)
2010–2013
Internal Medicine, Santemed Kloten (20%), Zurich (Dr. M. Pfänder)
2009
Internal Medicine, Medix Notfallpraxis am Stauffacher, Zurich (Dr. F. Huber)
2007–2009
Internal Medicine, Universitätsklinik Basel (Prof. U. Keller, Prof. J. Schifferli)
2005–2007
Experimental Hematology, Universitätsklinik Basel (Prof. A. Filipowicz)
2003–2005
Internal Medicine, Spitalzentrum Oberwallis (Dr. M. Schmid)
2002–2003
Psychiatry, Klinik Rheinau, Zurich (Dr. M. Hermelink)
Education and training
2008
Doctorate in Human Medicine, University of Basel
1993–2002
Study of Human Medicine, University of Vienna
1998
Foreign semester Pharmacology/Philosophy, Monash University Melbourne
Memberships
Swiss Medical Association FMH
Medical Association of the Canton of Zurich AGZ
Medical Association Winterthur - Andelfingen AWA
Swiss Society of Rheumatology SGR
Zurich Society of Specialists in Rheumatology ZFGR
Swiss Society for Ultrasound in Medicine SGUM
Swiss Medical Society for Manual Medicine SAMM
Swiss Society for Interventional Pain Management SSIPM
Awards and honours
Faculty Award 2009 of the University of Basel for the best medical dissertation («Efficient Allorecognition of Acute Myeloid Leukemia by Natural Killer Cells»)
Publications
Diermayr S et al. NKG2D ligand expression in AML increases in response to HDAC inhibitor valproic acid and contributes to allorecognition by NKcell lines with single KIR-HLA class I specifities. BLOOD, 111: 1428-36; 2008 Feb
Langenkamp U et al. Human acute myeloid leukaemia CD34+CD38- stem cells are susceptible to allorecognition and lysis by single KIR-expressing natural killer cells. HEMATOLOGICA, 94: 1590-94; 2009 Nov