Consultant
Dr. med. Philipp Neidenbach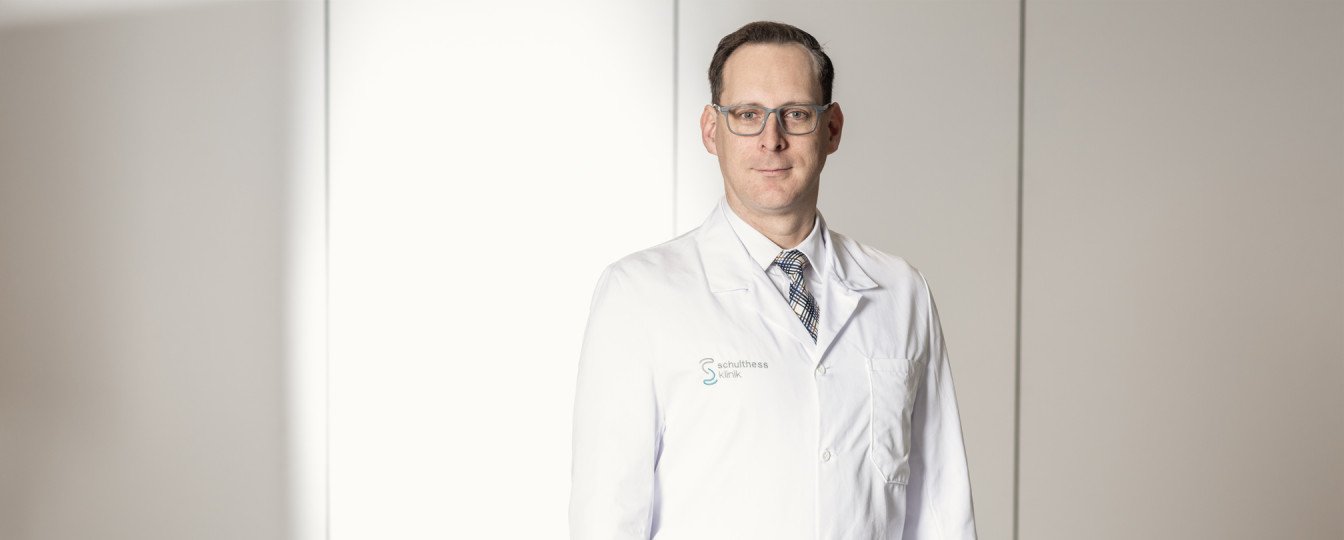 Position and faculty
Consultant Knee Surgery and Hip Surgery
Specialty
Primary and revision endoprosthetics knee joint
Primary endoprosthetics hip joint
Joint preserving interventions at the knee joint
Arthroscopies

Conversion osteotomies
Contact
Knee Surgery and Hip Surgery
Medical specialisation
Orthopaedic Surgery and Traumatology of the Musculoskeletal System
Curriculum
since 04/2016
Consultant Knee Surgery and Hip Surgery, Schulthess Klinik
01/2014–04/2016
Consultant, Clinic for Orthopaedics, Spital Limmattal
(Dr. med. Thomas Hug)
07/2013–12/2013
Resident Shoulder and Elbow Surgery, Schulthess Klinik
10/2011–06/2013
Resident Knee Surgery and Hip Surgery, Schulthess Klinik
04/2009–09/2011
Resident General Surgery and Traumatology, Spital Limmattal
(PD Dr. med. U. Zingg, Prof. Dr. med. O. Schoeb)
08/2007–03/2009
Project Manager und Medical Advisor AO Foundation, Department of Clinical Research (AO Clinical Investigation and Documentation, AOCID), Dübendorf
(Dr. med. B. Hanson, PhD)
01/2005–0/2007
Resident Orthopaedics and Traumatology, Klinik Gut, St. Moritz
(Dr. med. J.-P. Ackermann, Dr. med. A. Urfer, Prof. Dr. med. R. Marti)
Education and training
06/2015
Specialist in Orthopaedic Surgery and Traumatology of the Musculoskeletal System FMH
03/2012
Dissertation "Functional and radiological results of conservative treatment of proximal humerus and distal radius fractures"
2007–2009
Postgraduate Studies, Private University in the Principality of Liechtenstein (Medical Sciences)
1997–2004
Study of Human Medicine, University of Leipzig
Memberships
Swiss Medical Association FMH
Swiss Association of Residents and Consultants VSAO
Publications
Publikations
Neidenbach P, Audigé L, Wilhelmi-Mock M, Hanson B, De Boer P. The efficacy of closed reduction in displaced distal radius fractures. Injury, Int. J. Care Injured 41 (2010) 592–598.
Hanson B, Neidenbach P, de Boer P, Stengel D. Functional outcomes after non-operative management of fractures of the proximal humerus. J Shoulder Elbow Surg (2009) 18, 612–621.
Poster
Neidenbach P, Südkamp NP, Babst R, Blum J, DeBoer P, Audigé L, Hanson B. Surgical and Conservative Treatment of Proximal Humerus Fractures in 655 patients. Biennial Meeting of The International Society of Fracture Repair, July 13 – 16, 2008, Lake Tahoe, USA.
Neidenbach P. Delko T, Köstler T, Schöb O. Gastric Sleeve Operation bei Patienten mit morbider Adipositas. 98. Jahreskongress der Schweizerischen Gesellschaft für Chirurgie, 25. – 27. Mai 2011, Genf, Schweiz.
Lectures
Neidenbach P. Needle Stick Injuries in Operating Room Personnel. 13th European Congress of Trauma & Emergency Surgery, May 12 – 15, 2012, Basel, Switzerland.
Neidenbach P, Guggi T, Harder L, Preiss S. Reasons for Revisions of Unicondylar Knee Arthroplasty. Combined 33rd SICOT & 17th PAOA Orthopaedic World Conference, November 28-30 2012, Dubai, United Arab Emirates.