Senior Consultant
Dr. med. Hans-Kaspar Schwyzer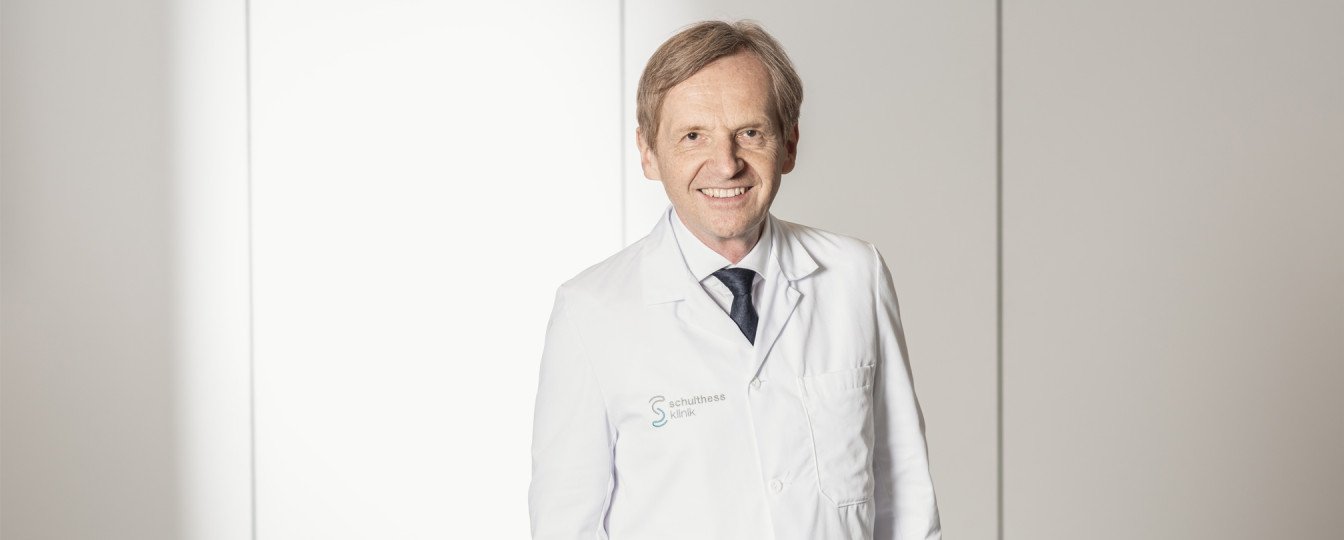 Specialty
Reconstructive surgery of shoulder and elbow including artificial joint replacement
Arthroscopic and open surgical techniques
Injuries of shoulder and elbow, in particular sports injuries
Rheumatism surgery of shoulder and elbow
Contact
Shoulder and Elbow Surgery
Medical specialisation
Orthopaedic Surgery and Traumatology of the Musculoskeletal System
Curriculum
1994/1995
Visiting physician Sportklinik Stuttgart/D (Prof. P. Habermeyer)
Landeskrankenanstalten Salzburg/A (Prof. H. Resch)
Memorial Orthopaedic Surgical Group Long Beach CA/USA (D. Morrison M.D.)
San Francisco CA/USA (T. Norris M.D.)
Steadman Hawkins Clinic Vail CO/USA (R.J. Hawkins M.D.)
Southern California Orthopedic Institute Van Nuys CA/USA (St. Snyder M.D.)
Loma Linda University Medical Center Loma linda CA/USA (Ch. Jobe)
Department of Orthopaedics, University of Washington (R. Matsen, D.Harryman II M.D.) Seattle WA/USA.
Education and training
06/1994
Specialist in Orthopaedic Surgery FMH
09/1992
Specialist in Surgery FMH
Specialist training in Internal Medicine, Surgery and Orthopaedic Surgery in Davos, Interlaken, Universitätsklinik Basel, Luzern und Schulthess Klinik.
1983
Doctorate as Dr. med. with a paper on the suprapubic urinary diversion «Die Ileoblase»
1981
Study of Human Medicine, University of Zurich
Federal Examination in Human Medicine
Scientific activities
More than 100 national and international lectures, Instructor at various international workshops / AO course in Davos
Author and co-author of several publications and book contributions
Guest surgeon for GSB III elbow artificial joint at home and abroad (Germany/ Austria)
New development shoulder artificial joint, author PROMOS
Further development of elbow artificial joint, GSB III
Quality Management and Outcome Measurement of Upper Extremity (QUOMUEX)
Speaker on the occasion of Health Weeks Leukerbad
Memberships
Swiss Medical Association FMH
Medical Association of the Canton of Zurich AGZ
Zurich Society of Orthopaedic Surgeons
Society of Surgeons of the Canton of Zurich
European Society for Surgery of the Shoulder and the Elbow SECEC/ESSSE
German Society Shoulder and Elbow Surgery e.V. DVSE
European Rheumatism and Arthritis Surgical Society ERASS
Publications
Congress lectures
Audigé L., Salomonsson B., Moroder P., Lambert S., Sperling J., Page R., Schwyzer H. K. and Durchholz H. International consensus for minimum radiological monitoring and complication reporting in shoulder arthroplasty: completion of a Delphi process. 78. Jahreskongress der Schweizerischen Gesellschaft für Orthopädie und Traumatologie (SGOT), 06.-08.06.2018, Montreux, Switzerland.